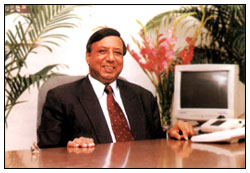 The Amity College of Corporate Warfare was created out of the Amity Institute of Competitive Intelligence and established as an independent institution on 11 May 2004. It is a premier institution for teaching corporate strategy, operations and tactics. It performs the important functions of also evaluating the new concepts and doctrines in these fields.
While business competition is proliferating and new technology is constantly changing the playing field, the basics of business endeavor remain essentially unchanged. Neither strategic, operational nor tactical excellence is sufficient by itself: the three must accompany one another for decisive victory. If you have the right strategy bit execute it poorly, your company will not profit. Similarly if you execute the poor strategy with operational and tactical excellence, your company will also fail: it makes no sense to focus on shortening the manufacturing lead-time of a product for which there is no demand. You must have a creative powerful strategy and implement it with will, dispatch and force.
The faculty of the College of Corporate Warfare keeps abreast with all tactical, logistical and technical developments in India and abroad in all aspects connected with training. The courses and training programmes run by the Amity College of Corporate Warfare would equip professionals and students with the techniques required to excel and achieve supremacy in the corporate battlefield of today and tomorrow.
Dr.Ashok K.Chauhan,
President, Amity College of Corporate Warfare
Founder President, Ritnand Balved Education Foundation