Excellence in legal education can be achieved only by enduring efforts and dedicated teamwork on the part of the management, faculty and students alike. The School has a well-qualified, experienced and dedicated faculty who are committed to the cause of quality legal education. The institute has been organizing every year faculty development/orientation programmes. The faculty members are being deputed regularly for UGC Orientation/Refresher programmes as well as the In-house Faculty Development Programmes organized by the Amity Academic Staff College. They are also nominated to participate in seminars and workshops organized by the Law School as well as other organizations and universities in and outside Delhi. The faculty has also been involved in research work in their respective areas of specialization and has been publishing articles in reputed journals.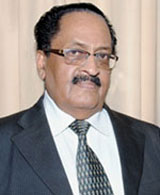 Prof. M.K. Balachandran, the Founder Director of Amity Law School has more than 40 years of teaching, research and training experience in India and abroad. He started his career in the Department of Law of Kerala University and thereafter worked in various capacities in different institutions of repute. He worked as a member of the faculty in the Indian Institute of Public Administration (IIPA), New Delhi, the Ahmadu Bello University, Zaria, Nigeria, the National Law School of India University (NLSIU), Bangalore and as a Legal Consultant for the International Committee of the Red Cross (ICRC), New Delhi.
He has been awarded the Prof. N.R. Madhava Menon Academic Excellence Award, 2009 instituted by the Society of Indian Law Firms and the Menon Institute of Legal Advocacy and Training in recognition of his distinguished services to Indian Legal Education.
(Prof.) Dr. M.L.Upadhyaya
Professor
LL.B; LL.M; Ph.D. (London)


Dr. Alok Mishra
Professor
M. Sc; LL.B; LL.M; Ph.D.
Pursuing D.Litt.

Dr. Mona Sharma
Associate Professor
M. A. (History); LLB;  Ph.D.

Dr. Isheeta Rutabhasini
Associate Professor
MA (Pol. Sc.); M.  Phil (Pol. Sc.)
UGC NET;
Ph.D.

Dr. Sanjay  Srivastava
Assistant Professor (Sr.)
B.A; LL.B; LL.M;
UGC-NET / JRF
Ph.D.

Dr. Rajesh Kumar
Assistant Professor (Sr.)
B.Sc.(Hons.); LL.B; LL.M;
UGC-NET
Ph.D.,

Mr. Ashutosh Hajela
Assistant Professor (Sr.)
B.Sc; LL.B; LL.M ; UGC-NET
Pursuing Ph. D.

Dr. Bhavish Gupta
Assistant Professor (Sr.)
B.Sc; MBA; LL.M; Ph.D.

Ms. K. K. Geetha
Assistant Professor (Sr.)
BA LL.B; LL.M; UGC NET
Pursuing Ph. D.

Dr. Susmitha P. Mallaya
Assistant Professor (Sr.)
B.Com; LL.B; LL.M; UGC-NET
Ph.D.


Dr. Saumyajit Ray
Assistant Professor
B.A.(Hons.) Political Science
M.A (Sociology); M. Phil. ( Pol Sci.)  UGC-NET/JRF
Ph.D.

Ms. Mini. N. Nair
Lecturer
B.Sc. (Physics);LL.B ;LL.M.

Ms. Shikha Hundal
Lecturer
B.A.(Hons.) Political Science:
LL.B; LL.M ;
Diploma in Training and Development; Diploma in Computer from NIIT
Pursuing MBA


Mr. Ashutosh Raj Anand
Assistant Professor
LL.B; LL.M; UGC-NET

Ms. Purnima Gupta
Assistant Professor
B.A. LLB(H) ; LL.M;
UGC-NET

Ms. Simple Khurana
Assistant Professor
B.A.LL.B. (Hons.); LL.M;
UGC-NET

Ms. Nisha Dhanraj
Assistant Professor
B.A.LL.B(H); LL.M.;
UGC-NET/JRF

Mr. Gaurav Varshney
Assistant Professor
LL.B; LL.M;
UGC-NET/JRF
Pursuing Ph.D.

Mr. Shaharyar Asaf Khan
Assistant Professor
LL.B; LL.M;
UGC-NET/JRF

Ms. Neelam Tyagi
Assistant Professor
B.A. LLB; LLM; UGC-NET ,         Pursuing Ph.D.

Dr. Tapan Kumar Chandola
Assistant Professor
B.Com; LL.B; LL.M
LL.D.

Ms. Rubina Grewal Nagra
Assistant Professor
B.A.,LL.B; LL.M
UGC-NET

Dr. Alok Gupta
Assistant Professor
B.A. (Hons.) ; M.A., (Economics); Ph.D. ; MBA (Pursuing)

Mr. Sridip S. Nambiar
Assistant Professor
LL.B, LL.M.

Mr. Vineeth R.S.
Assistant Professor
M.A. (History); M. Phil;
Ph.D. Submitted

Mr. Manish Sharma
Assistant Professor
LL.B. (Hons.); LL.M. (International Trade and Business Laws)

Mr. Debajit Kumar Sarmah
Assistant Professor
 M.A.; LL.B.

Prof. Taranjeet Duggal
Professor
B.Sc., MA (Sociology), of PGDBM(Gold Medalist), Diploma in  Training & Development, Diploma in  Computers from NIIT
Ph.D. Submitted

Mr. D.P. Singh
Lecturer
M.A (Political Science and  Sociology) Diploma in German/
Advance Diploma in German

Ms. Priti Tripathi
Lecturer
M.A (French), UGC-NET

Mr. Mohit Kumar Gupta
Assistant Professor
B.A., LL.B, LL.M , M. Phil , Pursuing Ph.D