Mr. Ashok Kumar, IPS, Inspector General - BSF delivers lecture on the topic "Law, Crime and Society" at Amity Law School Centre-II
Date: 8/23/2012
Mr. Ashok Kumar, IPS, Inspector General - BSF delivered lecture on the topic "Law, Crime and Society" at Amity Law School Centre-II on August 23, 2012.

Mr. Kumar enlightened the students on various subjects like law, crime in society and the various reasons for the rise in crime. Mr Ashok Kumar praised the active participation by the students. Mr. Kumar also discussed on the various reasons for corruption and the role of police in controlling crime.

Prof. Mamta Srivastava, Addl. Director, Amity Law School, Centre-II presented the vote of thanks.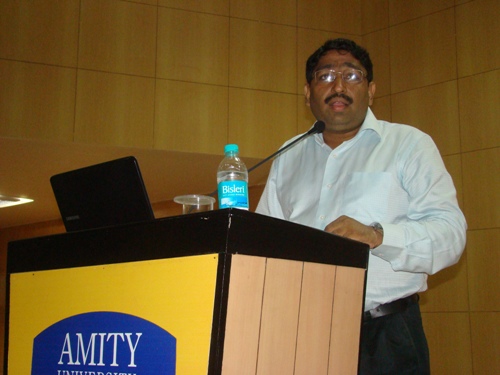 Mr. Ashok Kumar, IPS, Inspector General - BSF addressing the gathering
Faculty, Students of Amity Law School Centre-II present during the lecture session