Amity University Rajasthan organise workshop "Guest lecture by Dr. Alexander P. Hansen – German Research Foundation"
Date: 5/2/2016
Dr. Alexander has interacted with students, faculty members & research scholars on 2nd May 2016 at AUR. He was received and welcomed by Prof. G.K. Aseri & Prof. V.S. Dahima. We have shown our engineering, biotechnology, microbiology & AUSIC laboratories after campus round. His interaction was organized in moot court of block 3. He has given a PPT and explains the objectives of DFG and DWIH in detail. He has focused on available research opportunities for young engineering and Biology students under the umbrella of India – Germany research foundation. He has also motivated students to fill their application for Noble laureates meet which is fully funded by the DFG. Students have asked lot of questions about upcoming research areas where they can build their Carrier.
He has given quite long time with faculty members and research scholars and discussed the most popular German fellowships like Humboldt & DAAD. He has also given importance on collaborative research work among two country partners which has more approval probabilities.
We have distributedsome literature given by Dr. Alexander to University Library, Prof. ShikhaSharma (International Cell) & Director – ASL (German) and relevantdepartment faculty members.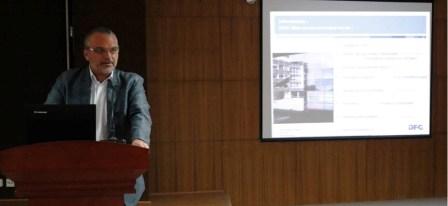 Dr. Alexander, Dir - DFG_Lecture at AUR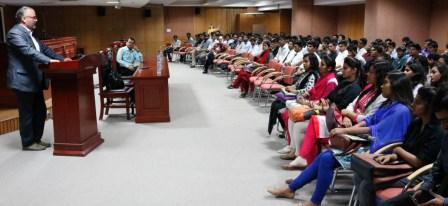 Dr. Alexander - Director - German Research Foundation at AUR