Dr. (Mrs.) Amita Chauhan – Chairperson, Amity International Schools honoured with National Excellence Awards
Date: 1/27/2009
"Education is the best service to humanity" and the one who provides it to the nation selflessly, needs be identified and acknowledged in order to make people aware of the existence of such a role model. T.P. Jhunjhunwala Foundation has done the same honor by facilitating Dr. (Mrs.) Amita Chauhan – Chairperson, Amity International Schools with the prestigious XX National Excellence Awards for her immense contribution in the field of Education and Cultural Heritage for past twenty years.

The glittering ceremony was witnessed by who's who of the city at Chinmaya Mission Centre, New Delhi including the Hon'ble Union Minister of Home Affairs for State, Mr. S.P. Jaiswal Dr. Abhishek Manu Singhvi- Eminent Parliamentarian and Swami Nikhilananda.

Dr. (Mrs.) Amita Chauhan was accompanied by Dr. Ashok Chauhan- Founder President, Amity Universe, Mr. Atul Chauhan- Chancellor, Amity University, Uttar Pradesh, Mr. Aseem Chauhan- Chancellor, Amity University, Rajasthan and Mr. Anand Chauhan- Trustee , RBEF.

The award ceremony was followed by a "Bhajan Sandhya" by famous singer Anoop Jalota who crooned several of his Bhajans for two hours, leaving audience asking for more.

T.P. Jhunjhunwala Foundation National Excellence Awards were instituted in 1991 and since then it has been given to several distinguished luminaries from different fields. Some of the recipients of the National Excellence Awards are Dr. R. K Srivastava, Dr. Naresh Trehan, Dr. Yatish Agarwal, Dr. A.K Mukherjee, Dr. S P Bajaj, Nalini and Kamalini, Dr. Upendra Kaul and many more.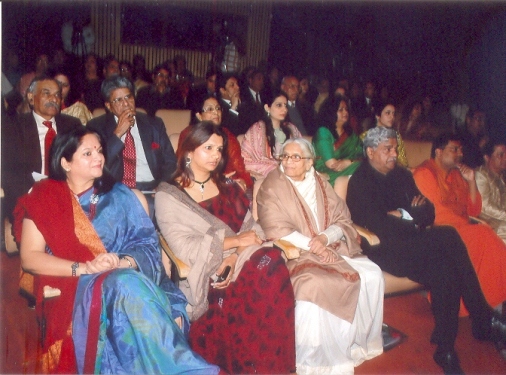 Dr. (Mrs.) Amita Chauhan, Chairperson, Amity International Schools with the dignatories during the awards ceremony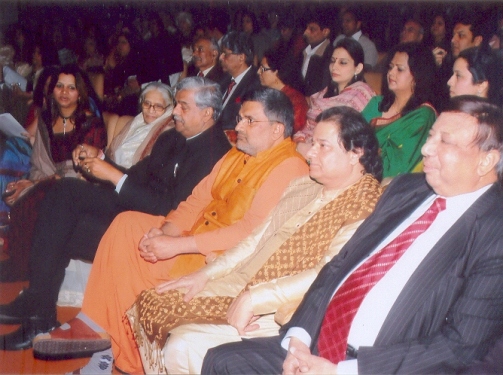 Dr. Ashok K. Chauhan, Founder President, Amity Universe with the dignatories during the award ceremony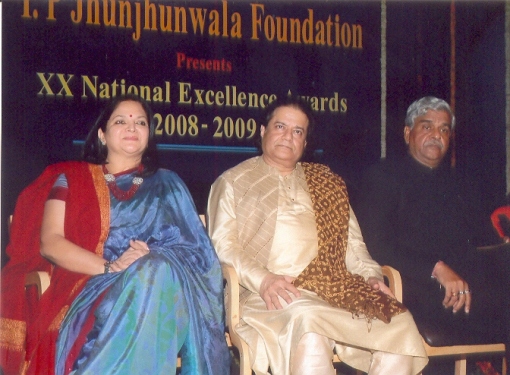 From L-R Dr. (Mrs.) Amita Chauhan, Chairperson, Amity International Schools, Mr. Anup Jalota, Bhajan Singer, Mr. Shriprakash Jaiswal, Union State Home Minister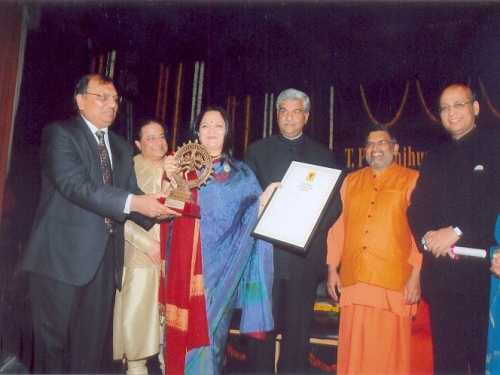 Dr. (Mrs.) Amita Chauhan, Chairperson, Amity International Schools receiving the National Excellence Award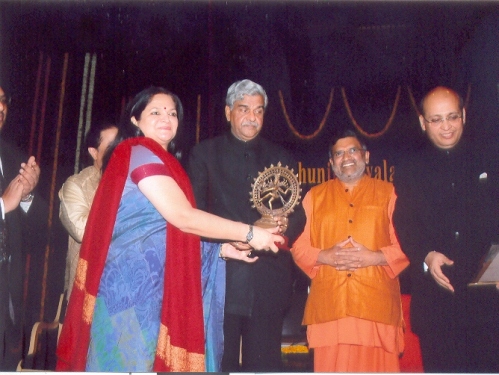 Dr. (Mrs.) Amita Chauhan, Chairperson, Amity International Schools receiving the National Excellence Award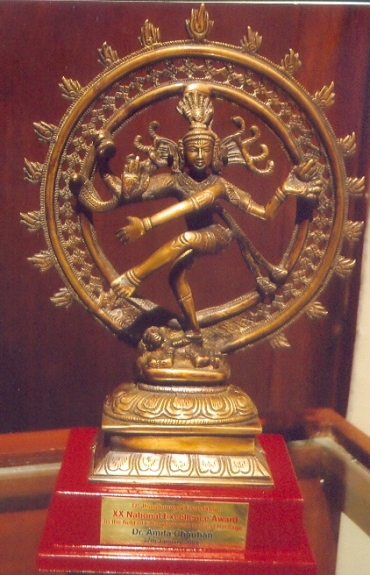 National Excellence Award trophy