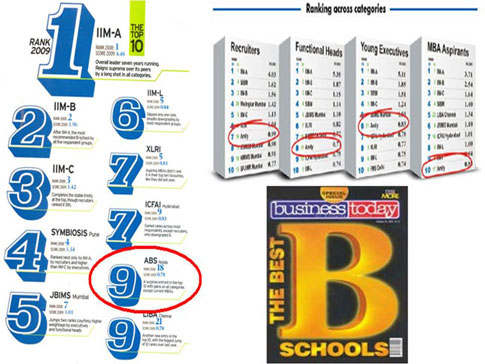 TOP RANKED
Ranked amongst the top business schools of India by various surveys :
Amity Business School is ranked in top 10 Business Schools in India (9th position) including IIMs. The Times B-School Rankings has been published in Times of India newspaper dated 23.2.2018.
In addition to the above, ABS, AUUP is also ranked 1st position in the top Private B-School in India.
Ranked 6th for Marketing & Sales by Leading Corporate Recruiters in Economic Times Ranking survey.
Ranked 9th in top B-School in India by Business Today Magazine, categorical ranking as 7th in Recruiters and 10th in MBA Aspirants.
PRIME LOCATION
Amity Business School is situated at an eco-friendly location in Noida
Located right on the border of Delhi, it is easily accessible from all parts of the city.
Major corporates such as HCL, Perot Systems, Adobe etc have their offices located nearby
Noida offers all amenties and luxuries like shopping plazas, malls, popular eating joints and outlets
AWARDS
EducationWorld-India Higher Education Rankings 2018-19 Award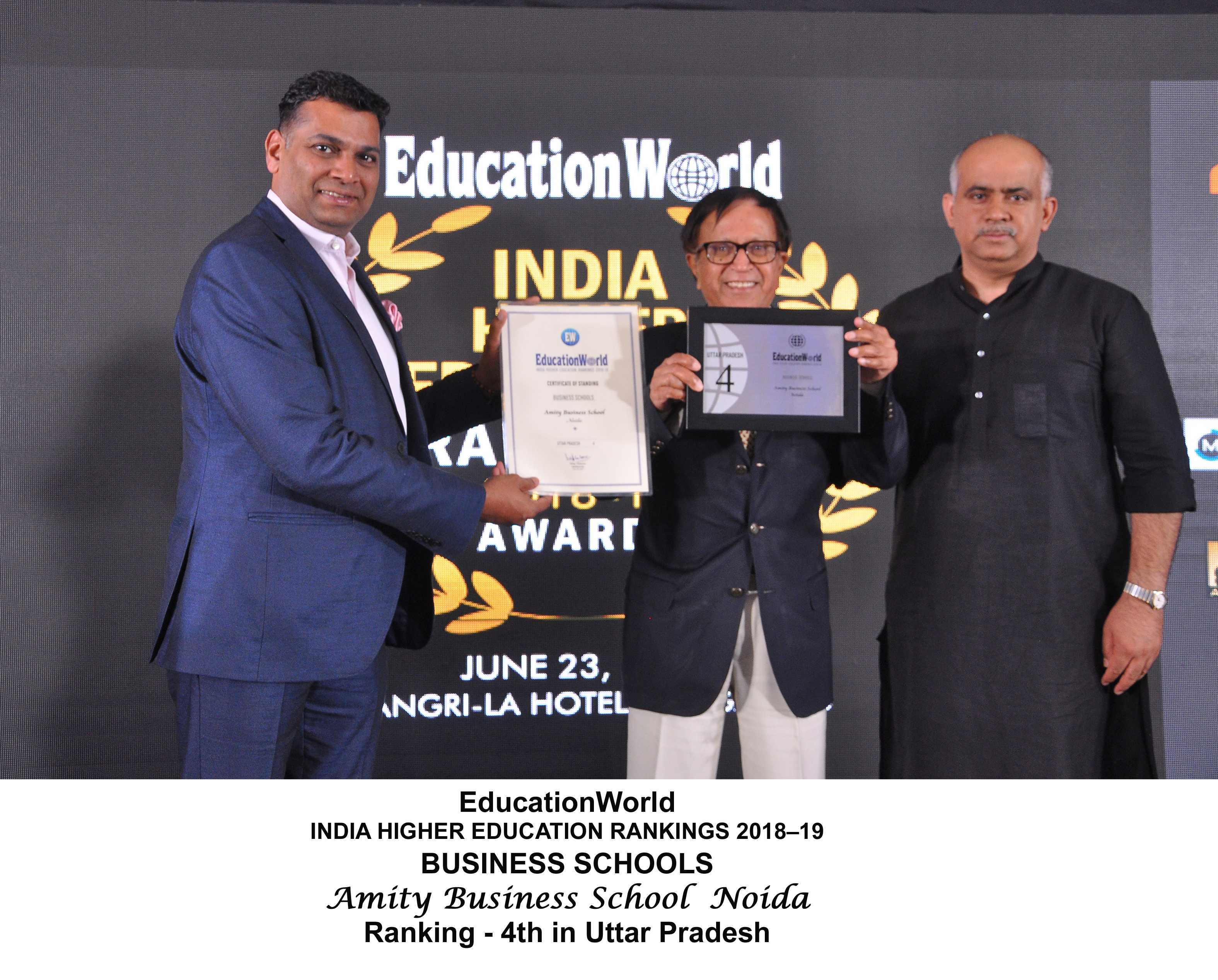 RECOGNITIONS & ACCREDITATIONS
COLLABORATIONS/TIE-UPS
International Collaborations/Tie-Ups with Universities
Amity has relationships with universities across the globe, from Canada to Taiwan, USA to France. These relationships enable Amity Business School students to study abroad, benefit from global peers and mentors, and faculty to engage with students and colleagues around the world in teaching/advising relationships and collaborative research projects.
The objectives of the International Division are to have student study abroad programs, student and faculty exchange programs, Internship programs, Faculty development programs, short courses & scholarly meetings, lectures, conferences, workshops, collaborative research, exchange of information, documents, publications and teaching materials with respect to each University, and to have joint projects with business and industries.
These international collaborations allow students, visiting scholars and faculty from partner universities around the world to spend time at Amity in ways that have deepened and broadened teaching, research, supervisory relationships etc.
Amity Business School (ABS) has an international collaboration with National Yunlin University of Science & Technology, a flagship national university in Taiwan. Under the agreement, both institutes regularly send their students to each other's campuses under the Students Exchange Programme. The MOU also covers academic and faculty exchange between the Management School of National Yunlin University of Science and Technology and ABS.
| COUNTRY | INSTITUTION |
| --- | --- |
| CANADA | CARLETON UNIVERSITY, CANADA |
| USA | CALIFORNIA STATE UNIVERSITY, SAN BERNARDINO |
| USA | CLAFLIN UNIVERSITY |
| USA | COLLEGE OF BUSINESS, DELAWARE STATE UNIVERSITY |
| USA | NJIT |
| USA | NYU POLY |
| USA | UNIVERSITY OF INDIANAPOLIS |
| FRANCE | INTERNATIONAL SCHOOL OF MANAGEMENT (ISM) |
| GERMANY | ISS INTERNATIONAL BUSINESS SCHOOL, GERMANY |
| ITALY | LINK CAMPUS, UNIVERSITY OF MALTA |
| NORTHERN IRELAND | QUEEN'S UNIVERSITY (BELFAST, NORTHERN IRELAND) |
| SCOTLAND | NAPIER UNIVERSITY, UK |
| UK | NEWCASTLE UNIVERSITY, UK |
| UK | NOTTINGHAM UNIVERSITY, UK |
| TAIWAN | FENG CHIA UNIVERSITY, TAIWAN |
| TAIWAN | NATIONAL TSING HUA UNIVERSITY, TAIWAN |
AMITY-CIMA Joint Certification Program
About CIMA :
The Chartered Institute of Management Accountants (CIMA) is a UK based professional body offering training and qualification in management accountancy and related subjects. It is focused on accountants working in industry, and provides ongoing support and training for members.
CIMA is one of the professional associations for accountants in the UK and Ireland. Its particular emphasis is on developing the management accounting profession. CIMA is the largest management accounting body in the world with more than 227,000 members and students in 179 countries. CIMA is also a member of the International Federation of Accountants.
AMITY-CIMA Association :
MOU was signed between two parties for UG Programs (B.Com & BBA) in 2016 to offer CIMA Diploma in Management Accounting for under graduate students. During June 2017 the same has been renewed with the objective of -
Accreditation of all MBA Programs through course mapping.
Offering CIMA Advanced Diploma in Management Accounting to MBA General & MBA Finance students through clearing only one examination based on Management Case studies. As per MOU students will get exemption in 11 courses and substantial rebate in Course fee.
Establishment of first Centre of Excellence in India in AMITY Noida Campus and releasing grant of GBP 50000. The main objective of this Centre is to work jointly in the area of Corporate & Academic Trainings, Industry tie-ups especially with research firms, consulting firms, Taxation Firms and Accounting Audit Firms.
Trainings and Development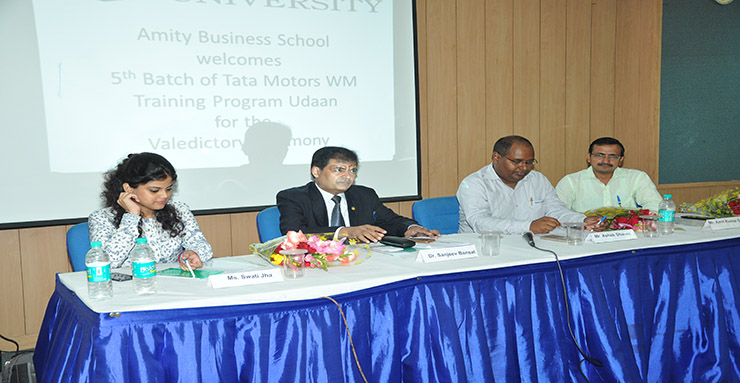 MOU signed with Tata Motors
Amity Business School has entered into MOU with Tata Motors for training their Works Managers. The basic purpose behind the training programme is to provide an exposure of managerial skills to the Works Managers before working on the field.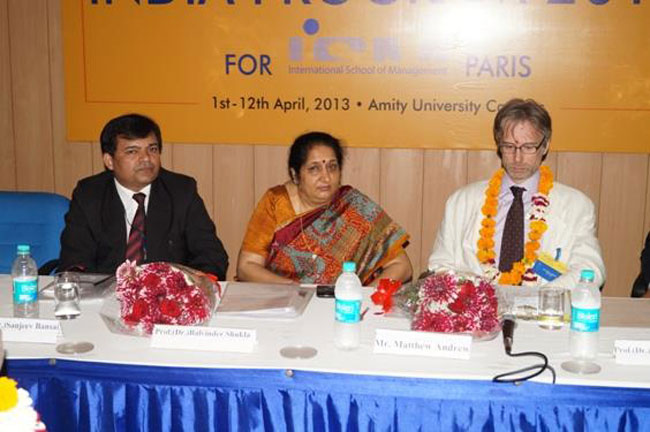 Two Week India Program for students of International School of Management, Paris at Amity University
Amity University and International School of Management (ISM), Paris established a partnership alliance in year 2012 to offer academic cooperation, joint seminars and student-faculty exchange program.
Two week India Program comprised of lectures, case study presentation by Amity faculty, seminars on wide range of topics including Doing Business in India, the Indian Economy, Indian Consumer Markets, Indian Financial Markets etc. The programme helped the participants in gaining insight into Indian business practices and markets.
ISM Paris Program is coming with TATA Motors
From L-R Dr. Sanjeev Bansal, Dr.Balvinder Shukla, Mr.Matthew Andrews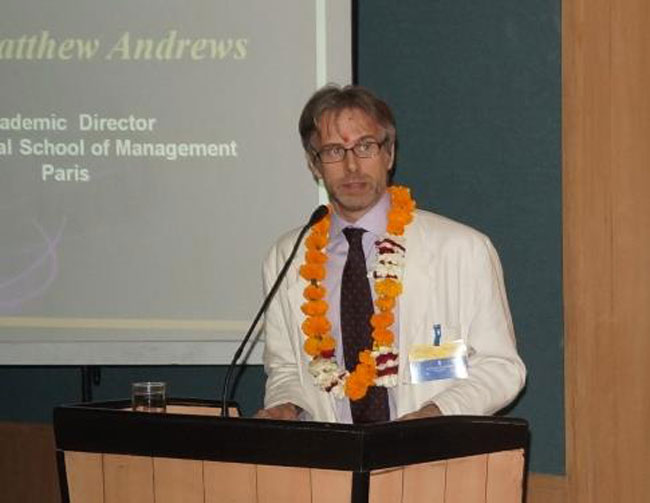 Mr. Matthew Andrews, Academic Director– International School of Management addressing the gathering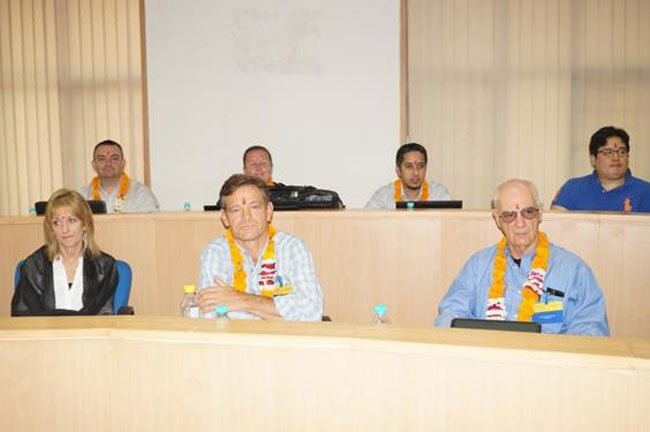 Participants of Two Week India Program for International School of Management, Paris