OTHER DEVELOPMENT PROGRAM
A Unique 4 -Tier Mentor Mentee Concept
A unique concept, introduced by any B-School in India for the first time
Industry mentors provide the mentees with insights essential to face corporate realities
Alumni mentor's familiarity with the insittute and corporates makes them excellent guides to students who can openly discuss their personal and professional needs Faculty mentor guides and counsels students on issues pertaining to academics and their personal lives
Since parents know their children the best, they alongwith the faculity mentor, help in bringing out the true potential in their children
Participative Managerial Effectiveness (PME)
At ABS, students are encouraged to take initiatives, conceive ideas and organize various activities. A unique approach summed up in three words- Participative Managerial Effectiveness
Structured Techniques for Enhancing Professional and Personal Skills (STEPPS)
The students are equipped with the requisite skills to work in teams, to lead, and to react in unfamiliar settings, besides learning effective communication, time management and conflict management skills. The module also imparts skills which enable an individual to know self, see oneself in relation to the organisation one works for, and then in relation to larger environment and the society.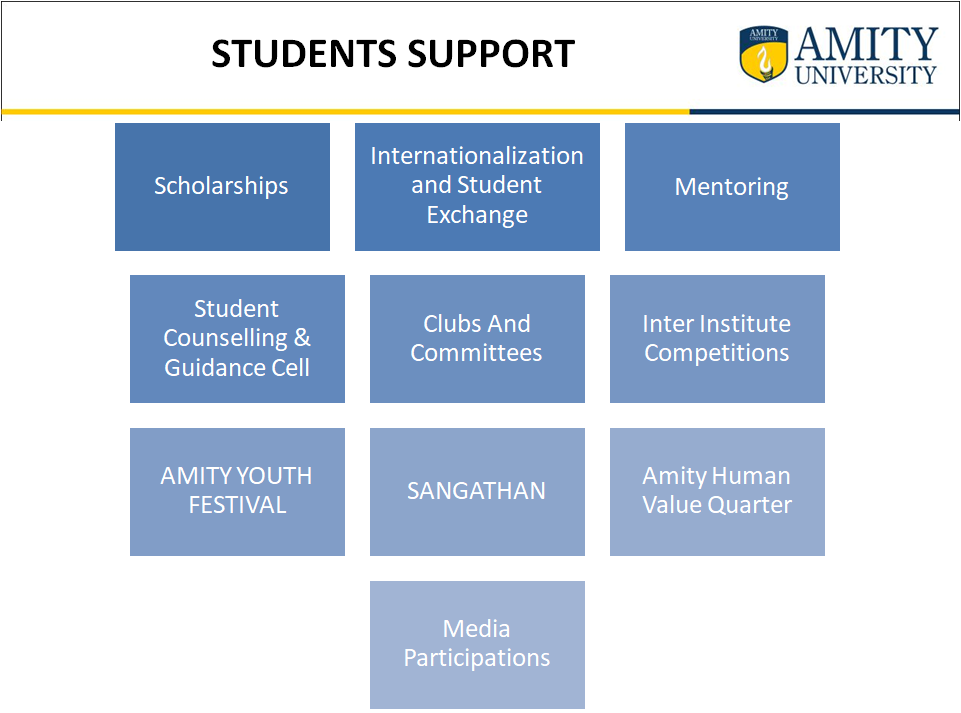 STUDENT ACTIVITIES
The student activity Cell is responsible for providing conducive and out of classroom learning environment. It serves as an important channel to solicit & receive feedback and suggestions, Club & Committee Cell provides an opportunity for students to cultivate and nurture their talents and learn leadership capabilities. It grooms them to be multi-skilled, all-rounded and well networked professionals processing requisite competitive skills.
List of Various Clubs
Finance Club
IT Club
Operations Club
Entrepreneurship Club
Marketing Club
Cultural Club (Fashion & Choreography & Music Society)
HR Club
Debate Club
List of Various Committees
Quiz Committee
Inter-Institute Competitions Committee
Sports Committee
Students Achievements
Six student teams of ABS (Class of 2024) participated in CII-Majestic Skill-Will- Lead Program organized jointly by CII Western UP Region and Majestic Auto Ltd. which was held on 1st, 2nd and 3rd November, 2022. It was an Inter Institute Presentation competition in which six B-Schools participated. Four of our teams have won Cash prize along with Certificates as per details given below:
S.No

Date

Topic

Students team

Venue

Status

1

01/11/2022

(Morning session)

Corporate Governance

1. Prajwalit Dalai - MBA (Finance)

2. Varshita Shukla - MBA (Finance)

3. Prakhar Gupta- MBA - (Finance)

KIET,

Ghaziabad

1st Prize worth Rs. 25000/-

2

02/11/2022

(Morning session)

Employee Retention

1. Bhavya Sharma-MBA (HR)

2. Acira Gupta-MBA (HR)

3. Vatsal Saxena -MBA (HR)

4. Aastha Sharma -MBA (HR)

Amity Business School, Noida

1st Prize worth Rs. 25000/-

3

02/11/2022

(Afternoon session)

Skills of a Visionary Leader

1. Shreya Mathur- MBA (HR)

2. Lavya Nath- MBA(HR)

3. Reetika Sarraf – MBA (HR)

Jaipuria Ghaziabad

1st Prize worth Rs. 25000/-

4

03/11/2022

(Afternoon session)

GDP

Regulations & Data Privacy

1. Rishabh Panwar – MBA(G)

2. Shahzada Abhiv Chawla

– MBA (G)

3. Gaurav Tara – MBA (TM)

4. Vijay Mishra-MBA (G)

IILM

University, Greater Noida

3rd Prize worth Rs. 10000/-
Ms. Kritika Dasgupta, Asst. Director (CRC) coordinated the event from ABS.
Photographs of the Event