---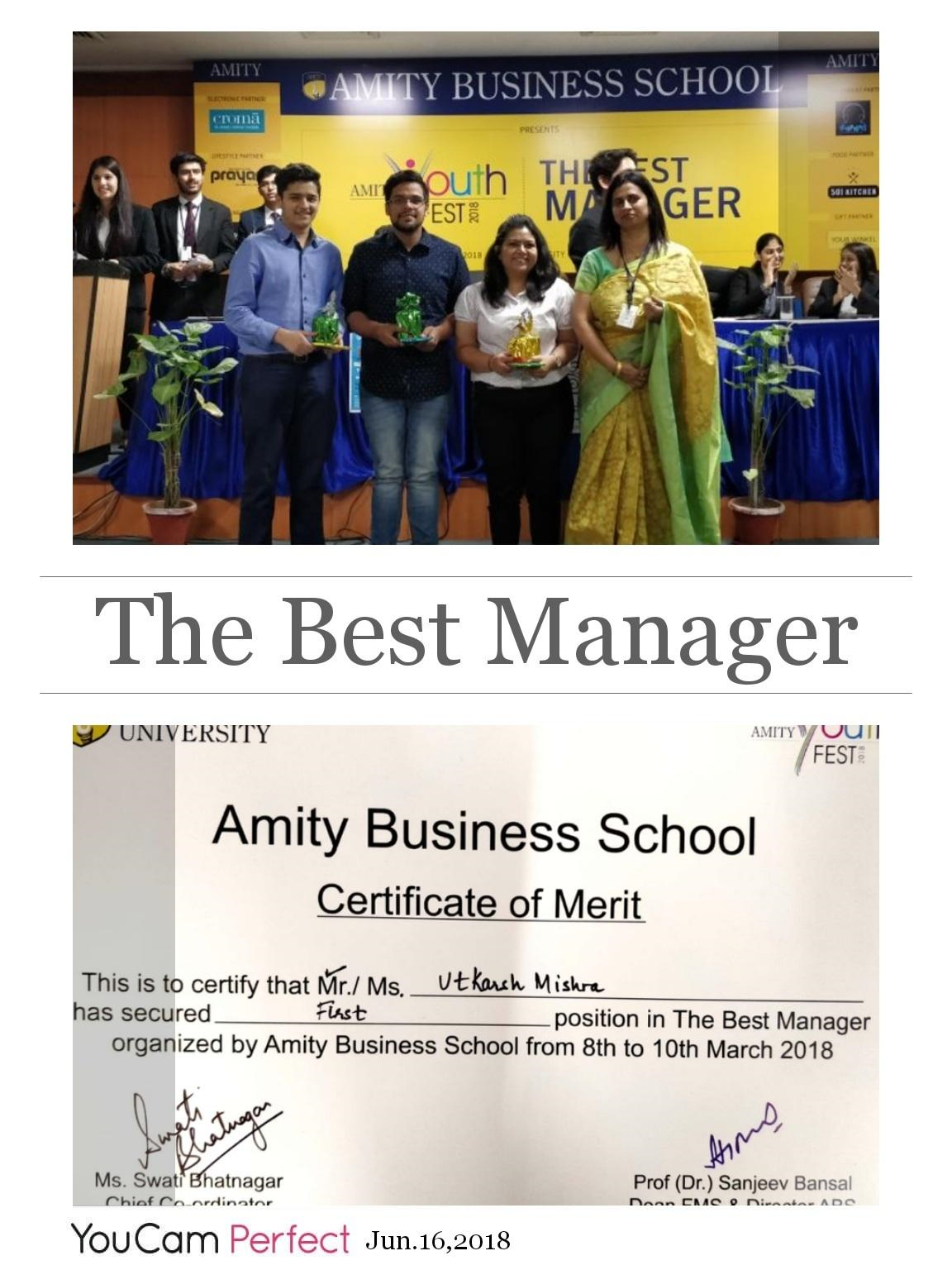 Utkarsh Mishra
Design Thinker | Communication strategist
2w • Edited
A moment's insight is sometimes worth a life's experience. Sharing with you all a wonderful experience at Amity Business School Noida. Congratulations to the entire organizing team of "The Best Manager" for organizing such a stupendous event. And yes, I emerged as the winner with "The Best Manager" title. Apart from the cash prize of 40,000, the learning which this event had given at every stage of its execution was amazing. Special mention: Samriddhi Purohit Rahul Jain for being an awesome team. Thanks again @Dr Sanjeev Bansal @Swati Bhatnagar ma'am and Amity University Noida #Marketing #ThebestManager #winner #strategicthinking #partnerships #teamwork Welingkar Institute of Management
Report on Valedictory Session of TATA Motors
The 8th batch of Tata Motors was inaugurated on 11th June '18. This is however the 7th batch of Tata Motors Works Managers program under UDAAN. The coordinators of the training program are Dr. Sumeet Singh Jasial and Dr. Lakhwinder Kaur Dhillon and they were supported by Ms T. Mathew, Ms Sapna Verma and Mr. Prem Singh. Mr. Amit Goel and Ms. Swati Jha were present for the inaugural. At the end of the inaugural ceremony the trainees were taken for a campus tour. Twenty six trainees from J&K region were trained for three months starting from 11th June '18.
During 3 months these trainees were given more than 200 hours of lectures on more than 40 topics of Operations Management, Finance, Marketing and Sales, HR, BC, BS, Legal Aspects of Business, etc. More than 30 faculties were given the opportunity to interact with the trainees. All the facilities viz. a viz. Library, Computer Lab, Wi-Fi connectivity were provided to the trainees. Trainees were sent to one week MTC at Manesar. They were also sent to Tata Service Station four times during their tenure. Their Dissertation Viva-Voce was judged by 4 panelists (2 from Tata Motors and 2 from ABS).
The Valedictory session was held on 7th September 2018 and attended by dignitaries from TATA Motors. Valedictory session started with welcome of Delegates by Dean FMS and Director ABS, Programme Coordinators of the batch, and other faculty members. After welcoming the guests Dr Sumeet Singh Jasial (Programme Coordinator) presented the report of the batch. After this Dr Sanjeev Bansal (Dean FMS and Director ABS) addressed the trainees and also read the message of our Hon'ble Founder President Dr Ashok K Chauhan Sir. Thereafter, Mr Ashok Sharma (Reginal Technical Support- TATA Motors Ltd) shared his experience and guided the students on industry expectations. Mr Arvind Mishra (State Service Manager- Delhi NCR, CVBU TATA Motors) told about expectations from J&K UDAAN candidates and about how much investment government has put in for them. Mr Puneet Saxena (Regional Manager- North and Western-Territory Service Fleet Management System, TATA Motors) guided them on how to sustain and become successful in the competitive world. Ms Swati Jha (Senior Manager-Skill Development and Training, Customer Care-CVBU TATA Motors) told the trainees that such types of opportunities are not given to many in this country and hence trainees should avail maximum out of it. After that certificates and Book (with Note from Hon'ble Founder President Sir) were distributed to the trainees by the dignitaries. Some trainees shared their experience and spoke very high about Amity Business School, faculties, programme structure, MTC, hostel accommodation and TATA Motors. Mr Abhimanyu Kaul proposed the Vote of thanks to the NSDC, TATA motors and Amity Business School. Finally Dr Lakhwinder Kaur Dhillon (Programme Coordinator) proposed the Vote of thanks to the dignitaries from TATA Motors. Valedictory session was followed by Lunch.
---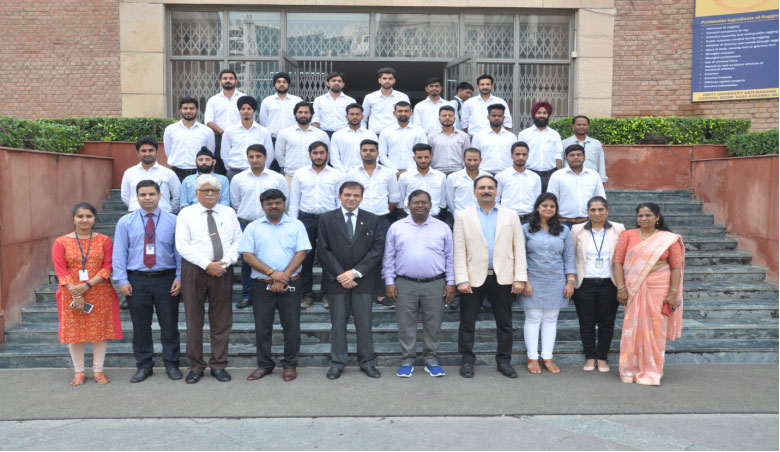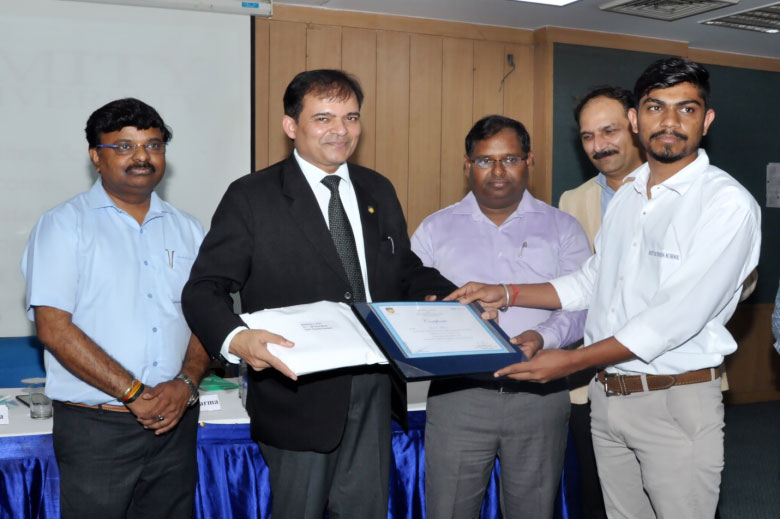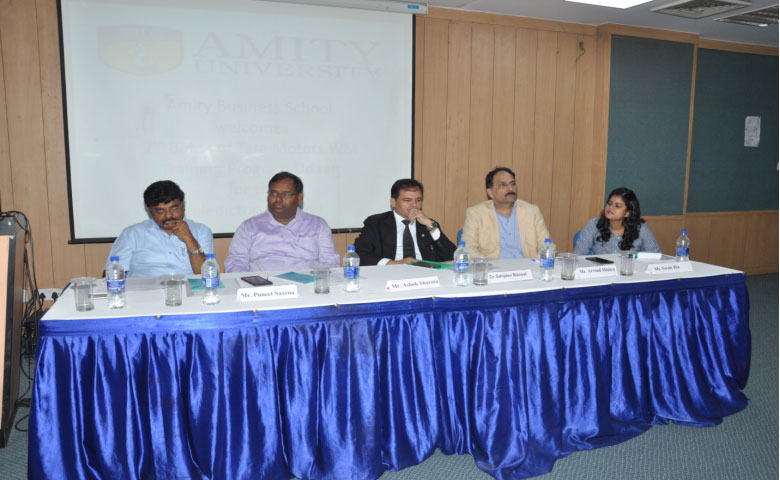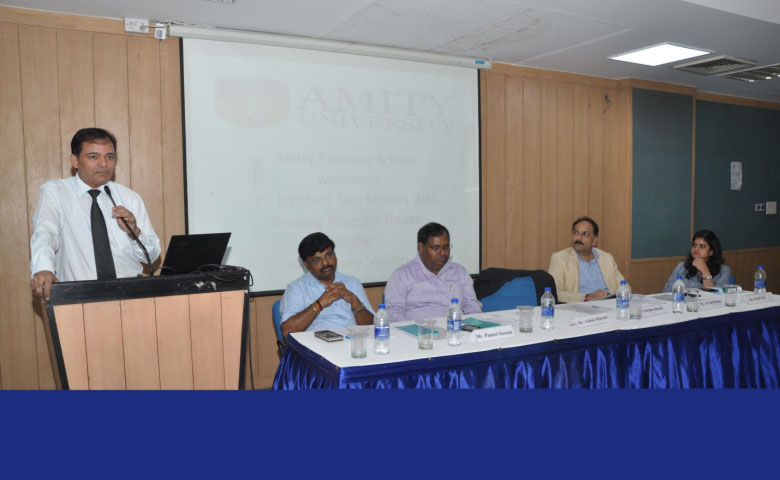 Guest Lecture by Mrs. Ratna Anjan Jena
A guest lecture was hosted in Amity Business School on 26th September 2018, from 11:00 a.m. to 1:00 p.m. The guest for the day was Mrs. Ratna Anjan Jena, who currently works in the capacity of a Statistical advisor in the ministry of Women and Child development. The guest speaker, Mrs. Ratna Anjan Jena also had a lot of experience with Statistical models and their usage from her previous jobs; and also by virtue of holding an M.Sc and M.Phil in Statistics from the University of Delhi.
The event was organized in a grand manner with the speaker being introduced by Pranjal Pant, a student of MBA General, and being felicitated by Ms. Tavishi, who was the faculty event coordinator. The teachers in attendance for the event included Ms. Shinu Vig, Dr. Anshu Yadav, Dr. Taranjeet Duggal, Dr. Chandranshu Sinha, Dr. R. Sujatha and Ms. Tavishi (Event coordinator).
In the audience, a very lively group of MBA – HR students of both first year and the final year were present. The anchor, Pranjal, introduced Mrs. Ratna Anjan Jena and invited her on stage to share her knowledge with the students. Mrs. Ratna Anjan Jena made a presentation on the topic " Impact of public and Private investment in healthcare sector on poverty" and had a confident and sharp approach to her subject, and right from the get-go, it was evident that the audience was in for a very fruitful knowledge sharing session. The students were encouraged to ask the guest as many questions as possible to clarify their approach to the subject.
Mrs. Ratna Anjan Jena spoke about the usage of various Statistical models. She took the case of poverty, took up the intricacies of investments in the healthcare sector and how the same could be benefiting the end users. In her approach, she not just used her words as powerful tools to justify, but also made use of graphs, statistical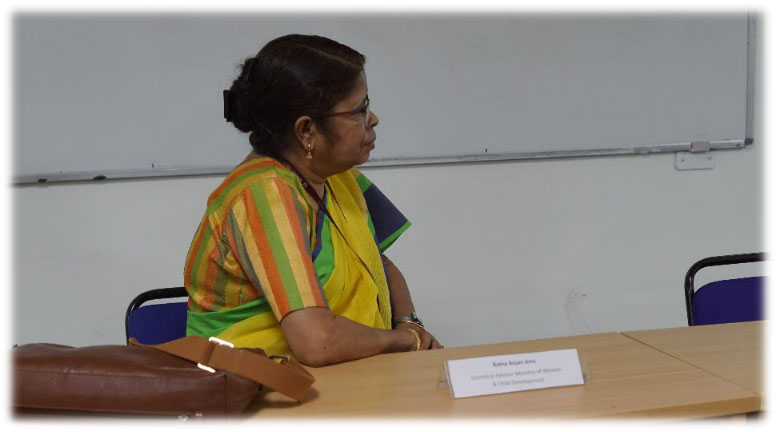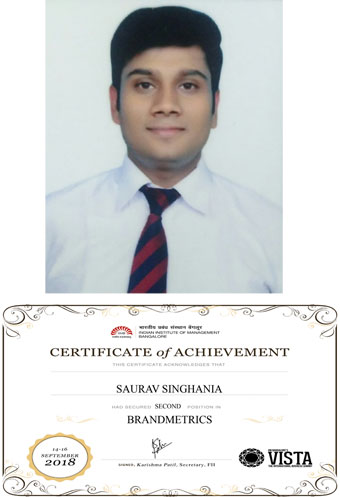 Saurav Singhania

It was pleasure to be part of IIM Bangaluru competition and must mention that it was a learning experience with new approach to look at things. The best we could make out of this competition is that how we can construct ideas with some small clues and also at the same time we understood that how important the discipline in our lives is. It has in fact tested our creativity, consciousness and carefulness including research skills.
---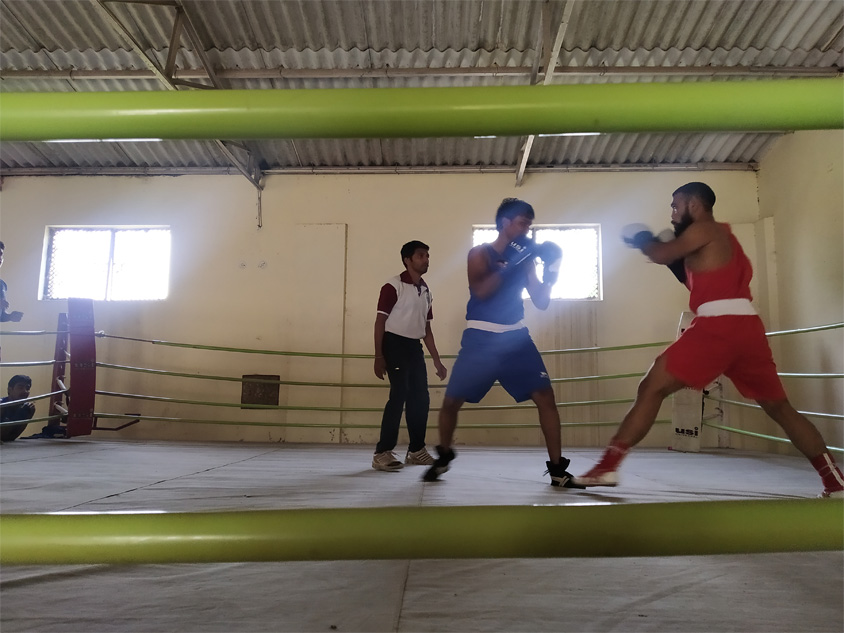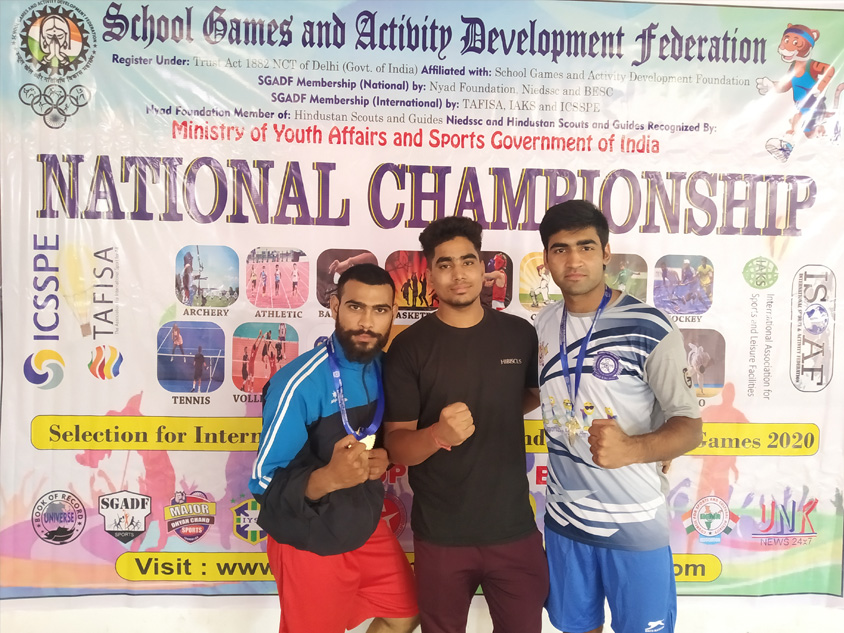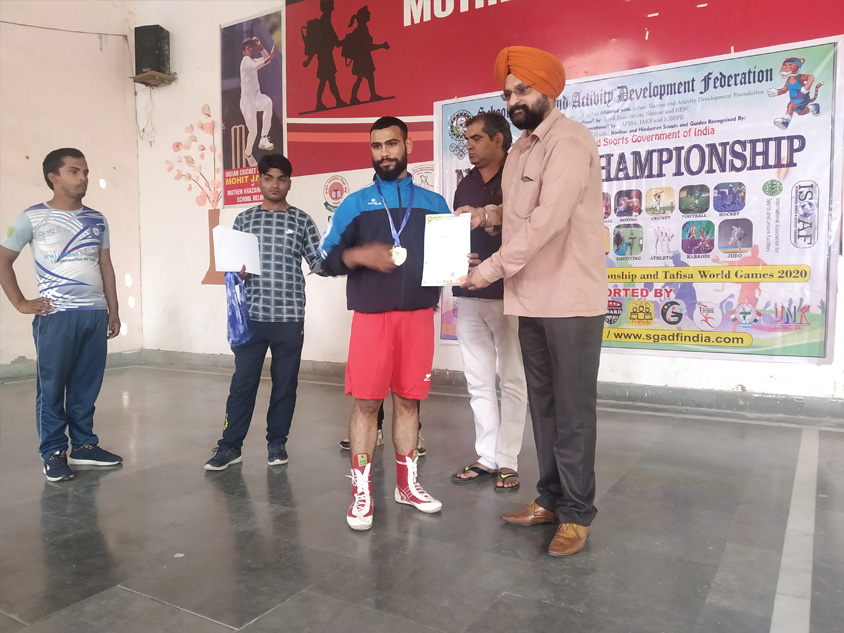 Thakur Arjun Singh
MBA (General)
Thakur Arjun Singh of MBA (General) has won gold medal in the National Championship in boxing organized by Ministry of Youth Affairs and Sports Government of India on 12th October 2019.
An athlete with a deep reservoir of will power and determination, he was born to a professional boxer, He attributes his success to his elder's blessings He also feels that being an Amitian has transformed his life in myriad ways. Sangathan, the Annual Sports event has helped him stay in great shape to be able to accomplish this national award