Welcome to SPIN 2021

All accepted papers are expected to be included in the IEEE Xplore and indexed by EI, SCOPUS etc.
Authors of accepted, registered and presented papers of SPIN 2021 will be invited to resubmit their extended manuscripts (substantially revised, expanded and rewritten as per respective journal's guidelines ) for possible publication in:
Regular Issues:
IEEE Internet of Things (IoT) Journal, Published by IEEE, Indexed in: SCIE, SCOPUS, Web of Science etc., Impact Factor: 9.936 URL: https://ieeexplore.ieee.org/xpl/aboutJournal.jsp?punumber=6488907
IETE Technical Review, Published by Taylor & Francis, Indexed in: SCIE, SCOPUS, Web of Science etc., Impact Factor: 1.339 URL: https://www.tandfonline.com/action/journalInformation?journalCode=titr20
IETE Journal of Research, Published by Taylor & Francis, Indexed in: SCIE, SCOPUS, Web of Science etc., Impact Factor: 0.829 URL: https://www.tandfonline.com/action/journalInformation?journalCode=tijr20
All papers of SPIN-2014, SPIN-2015, SPIN 2016, SPIN 2017, SPIN 2018, SPIN 2019 and SPIN 2020 have been published in IEEE Xplore Digital Library and have been indexed by Scopus, Google Scholar etc.)
---
In succession of International Conferences SPIN-2014, SPIN-2015, SPIN-2016, SPIN-2017, SPIN-2018,SPIN-2019, SPIN-2020,8th International Conference on Signal Processing and Integrated Networks, SPIN-2021 will be organized by Amity University, Noida, on 26-27 August 2021. The Conference aims to bring together scientists, academicians and industrialists working in the field of Signal Processing and Integrated Networks to discuss new ideas and promote research work.
The conference will be devoted to all advancements in Signal Processing and Integrated Networks. Researchers from all over the country and abroad will gather in order to introduce their recent advances in the field and thereby promote the exchange of new ideas, results and techniques. The conference will be a successive catalyst in promoting research work, sharing views and getting innovative ideas in this field.
Objectives
The objective of SPIN-2021 is participation from Academia, Research Organizations and Industry in the following ways:
Technical Sessions
Panel Discussions
Industry Forum
Keynote Speeches, Invited & Submitted papers
Special Sessions on Selected Topics
This two-day conference will offer a unique opportunity to gain insight into state-of-the-art technology in the field and to network with international researchers and scientists.
Previous editions of SPINs have attracted researchers from across the world in the form of Invited Talks, Contributory Papers, Participation from Reputed Institutes of India and Abroad, Research Labs, Industry etc. Some of the glimpses are given below:
Technical Tracks
International Participation
Previous Versions of SPIN had participation from Countries like: Australia, Austria, Bangladesh, Bulgaria, Canada, Chile, China, Costa Rica, Czech Republic, Denmark, Egypt, Finland, France, Germany, Hungary, Iceland, Iran, Iraq, Israel, Italy, Japan, Jordan, Kazakhstan, Kuwait, Malaysia, Mauritius, Moldova, Nepal, New Zealand, Nigeria, Norway, Oman, Poland, Portugal, Republic of Macedonia, Romania, Russia, Saudi Arabia, Singapore, South Africa, South Korea, Slovakia, Spain, Sri Lanka, Sweden, Taiwan, Thailand, Tunisia, Turkey, UK, USA, Vietnam.
National Participation
Previous versions of SPIN attracted participation from 27 States of India (Out of 29) and have a nationwide visibility to the researchers of this area.
Previous versions of SPIN attracted papers from Many reputed institutions like :
IIT-BHU, IIT Bhubaneshwar, IIT Delhi, IIT (ISM) Dhanbad, IIT Gandhinagar, IIT Gauhati , IIT Hyderabad, IIT-Indore, IIT Jodhpur, IIT Kanpur, IIT Kharagpur, IIT Madras, IIT – Mumbai , IIT Patna, IIT Ropar, IIT Roorkee.
IIIT Allahabad, IIIT Chittor , IIIT Guwahati, IIIT Gwalior, IIIT Hyderabad, IIIT Jabalpur, IIITDM Kancheepuram , IIIT-Trichy.
NIT Agartala, MNNIT Allahabad, MANIT Bhopal, NIT Durgapur, NIT Hamirpur, MNIT Jaipur, NIT Jalandhar NIT Kurukshetra, NIT Meghalaya, NIT Mizoram, VNIT Nagpur, NIT Patna, NIT Puducherry, NIT Raipur, NIT Rourkela, NIT Silchar, NIT Srinagar, SVNIT Surat, NIT Surathkal, NIT Tiruchirapalli, NIT Warangal.
BITS Pilani, BITS Pilani Dubai Campus, BITS Mesra, Central University Tezpur, DTU- Delhi, IIEST Shibpur, IGDTUW- Delhi, JNTU Hyderabad, JNU Delhi, Jamia Hamdard University, NSIT-Delhi, Symbiosis Institute of Tech Pune, Aligarh Muslim University.
Research Labs and Industry - Bhabha Atomic Research Center, Bharat Electronics Limited, CSIR Labs, National Physical Laboratory, CEERI, National Centre for Antarctic and Ocean Research, CDAC, Cadence Design Systems, DRDO, ISRO Research Labs, Indira Gandhi Centre for Atomic Research, Institute of Radio Physics Calcutta, Regional Cancer Centre-Trivandrum, Sarabhai Institute of Science and Technology , Vikram Sarabhai Space Center, Amazon, National Institute Abiotic Stress Management, Pune, TCS, Tata Elxsi.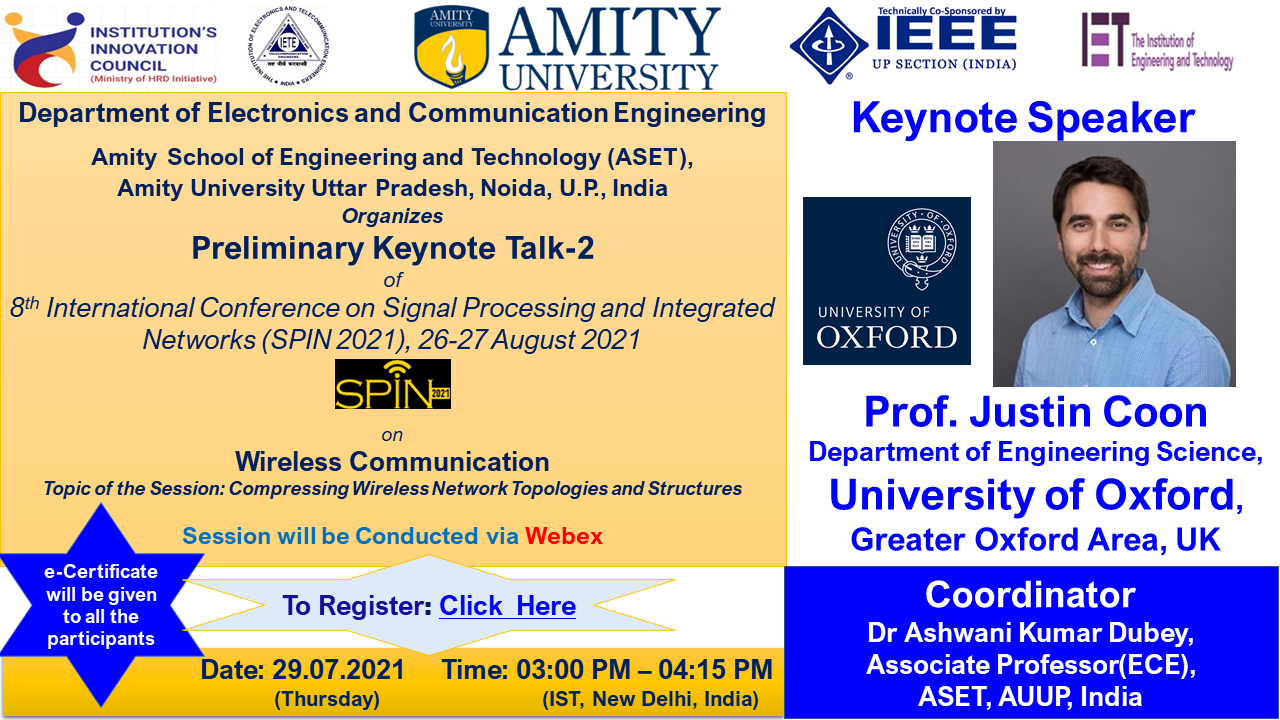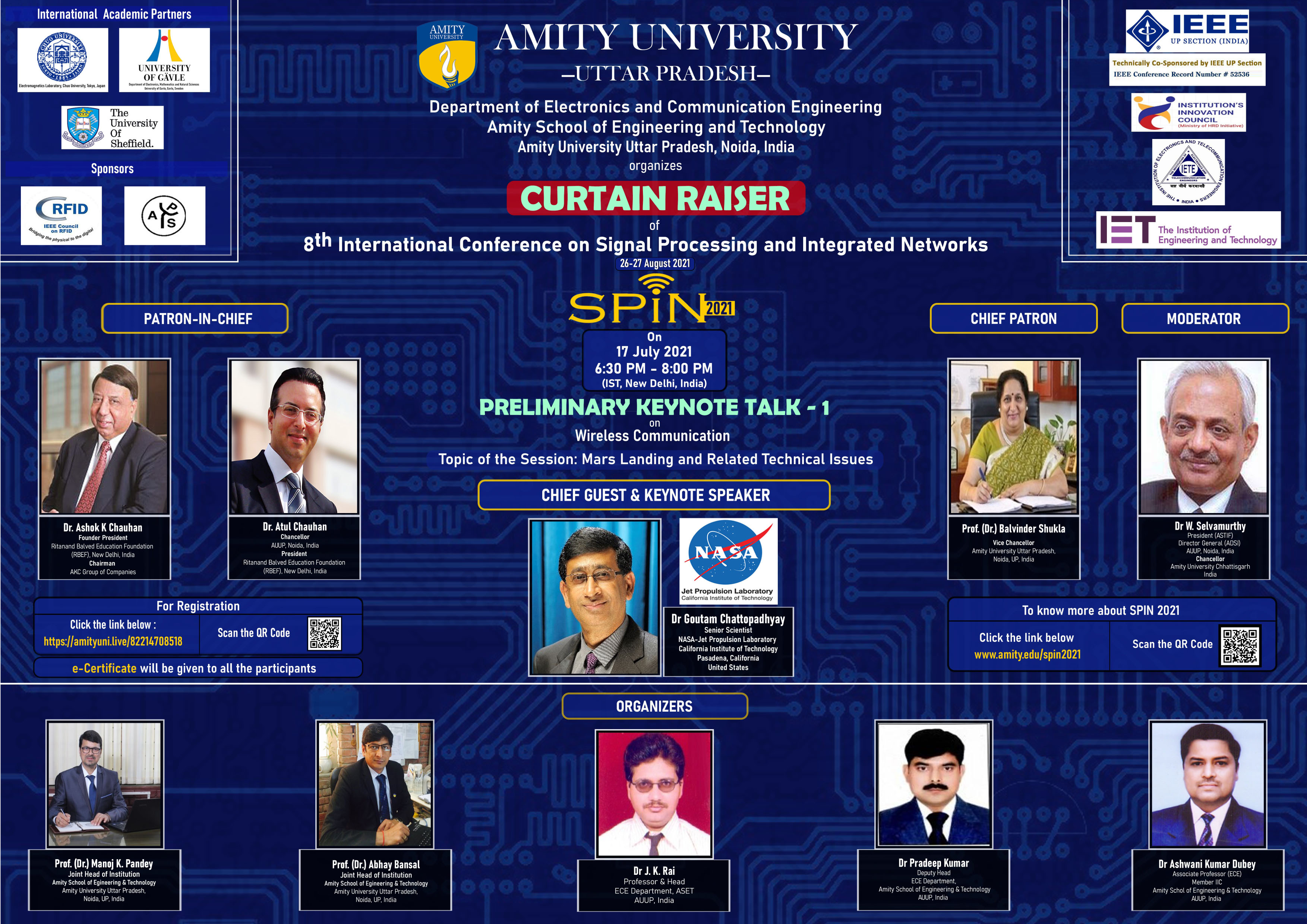 Gallery (Previous SPIN)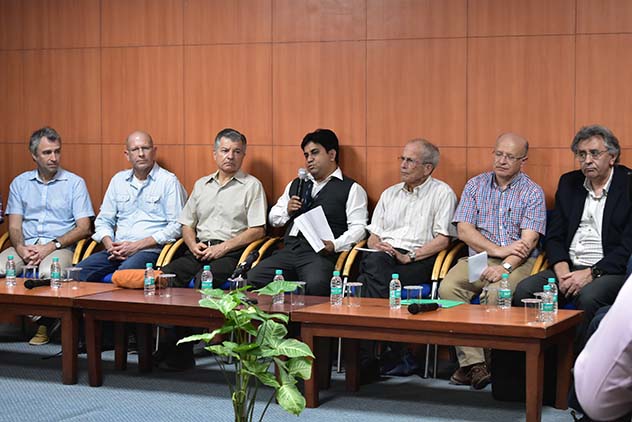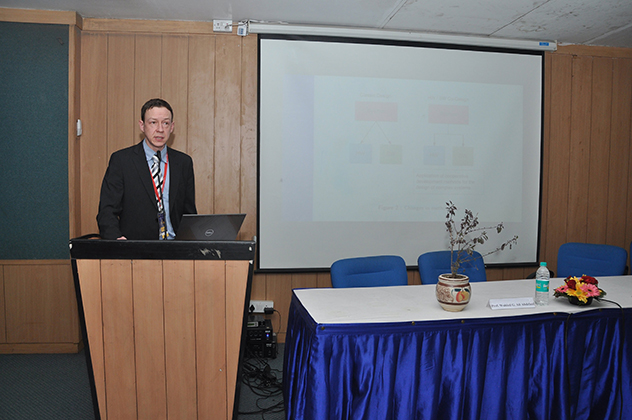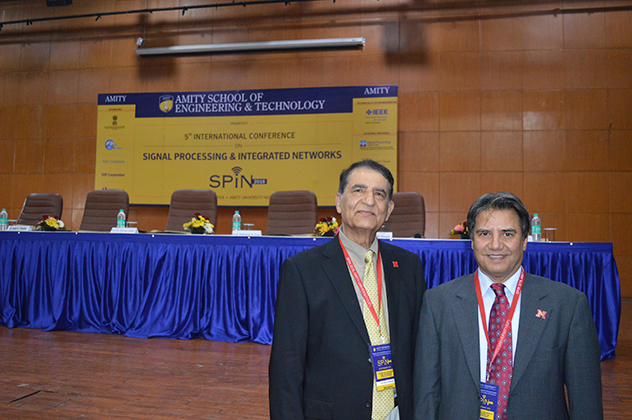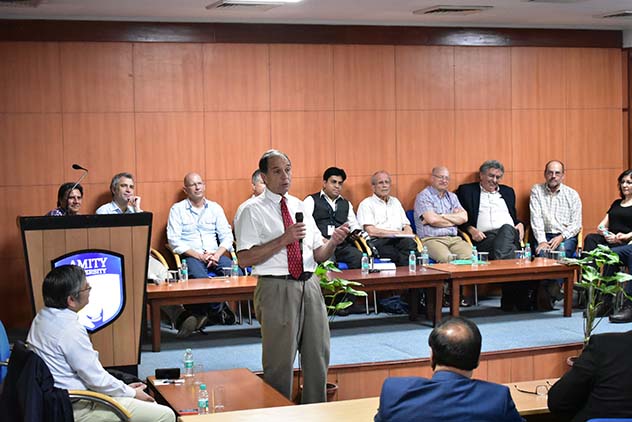 Click Here
---
Academic Partners of SPIN 2021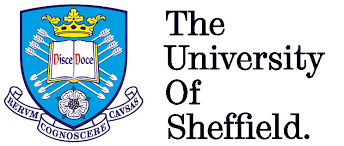 Wireless Communication at Sheffield
Department of Electronics and Electrical Engineering
University of Sheffield, UK

Electromagnetics Laboratory, Chuo University, Tokyo, Japan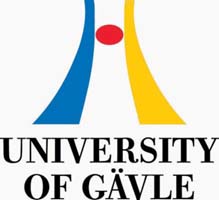 Department of Electrical Engineering, Mathematics, and Science
---
Partners of Previous SPIN
Academic Partners

Electromagnetics Laboratory, Chuo University, Tokyo, Japan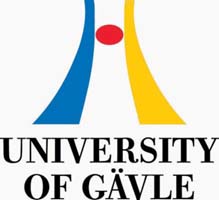 Department of Electronics, Mathematics and Natural Sciences University of Gavle, Gavle, Sweden
---
Industry Partners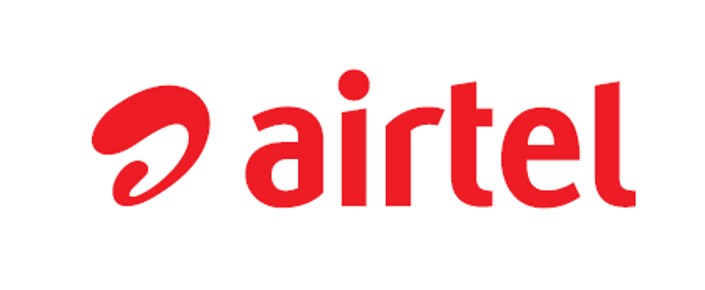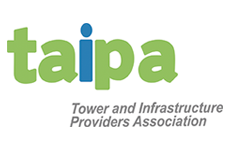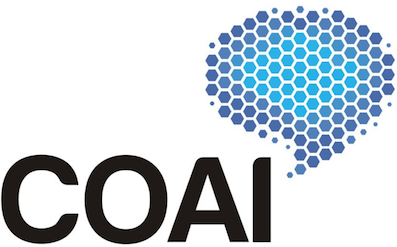 Cellular Operators Association of India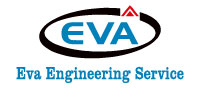 ---
Media Partner

---
Technical Support Partner