Crusade of Entrepreneurship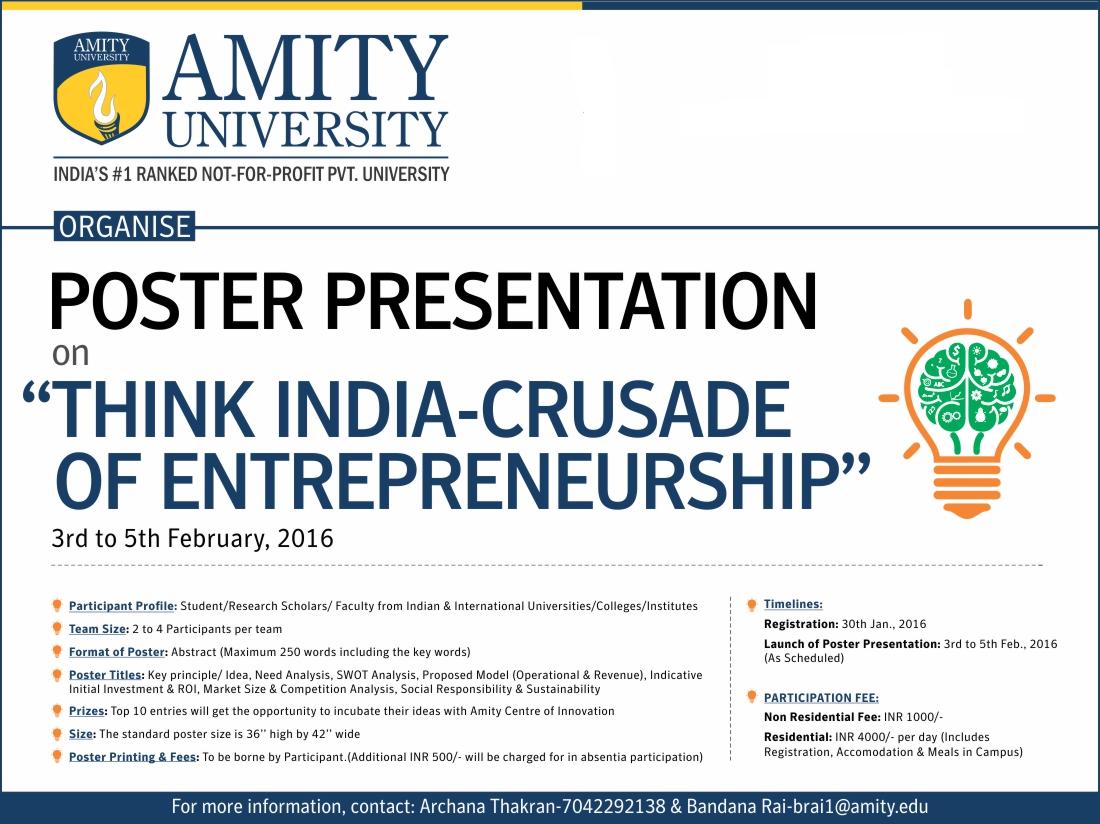 Hosted by Amity University, Uttar Pradesh , "Crusade of Entrepreneurship" will bring leaders, faculty and students from colleges and institutes across India and Globe together with their partners in government, business, industry, communities and other stakeholder organizations.
The event is being overseen by Dr. Gurinder singh, Amity Group Addl Vice Chancellor along with the achievers from academia and industry. We are launching a Poster Presentation Exhibition reflecting on one of the key functional areas of business management and technology (Operations, Marketing, Finance, Human Resource, Research, Project Planning etc) to be evaluated on the basis of Innovation, Application, Market Competitiveness, Social concern and Sustainability.
Participation Terms
Participant Profile: Student/ Research Scholars/ Faculty from Indian International Universities/ Colleges/ Institutes
Team Size: 2 to 4 per team
Format of Poster:

Abstract (Maximum 250 words including the Key Words)
Key Principle/ Idea
Need Analysis
SWOT Analysis
Proposed Model (Operational & Revenue)
Indicative Initial Investment & ROI
Market Size & competition Analysis
Social Responsibility & Sustainability

Size: The standard poster size is 36" high by 42" wide (Clearly printed and not Hand written). Posters will be clipped onto a board provided by University. Also, carry the Power Pint presentation in a pen drive as the identified models may get an opportunity to present to board of investotrs.
Set Up/ Take Down: Students mount their own posters on scheduled day (1000 am) and take them down at the end of Day (1800 pm). Any poster not in place by 1000 am will not be accepted.
Poster Printing & Fees: To be borne by Participant
Timelines

Abstract submission: 18th January,2016
Final List of Qualified Participants: 25th January, 2016
Final Poster Presentation: 3rd to 5th February, 2016 (As scheduled)

Participation Fee:

Non Residential: INR 1000/-
Residential: INR 4000/- per day (Includes Registration, Accommodation & Meals in campus)
Prizes: Top 5 models will get the opportunity to incubate their ideas with Amity Incubator Centre.
Many other attractive prizes for winning teams under different functional areas
Venue: I3 Block, Amity University, Sector 125, Noida, Uttar Pradesh
Contact ID: brai1@amity.edu
Contact Number: (+91) 9818 03 8177 / 8899 10 4918 / 9910 10 6303