Prof. Nick Petford
Vice Chancellor, The University of Northampton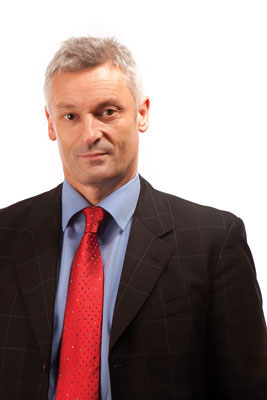 "The University of Northampton is delighted to be supporting the Amity International Business Horizon Era World Summit 2017.

The University recognises the significant importance of entrepreneurship, employment and economic development to the ongoing success of our students and to the institution as a whole. 96% of our graduates are employed, either as an entrepreneur in their own right or with a private or public organisation, or in further study six months after they complete their course. This accolade is an outcome of the significant investment of our university to the student experience to create an environment where our staff can nurture our students' entrepreneurship and employability skills and allow them to achieve their full potential.

But that is not all. We are building a brand-new university campus in the heart of our community. This scheme, backed by the UK Government in the form of a loan guarantee, is regenerating a large and poorly used area of Northampton's town centre. The scheme will not only provide a state-of-the-art university campus fit for a 21st century university, but also provide an environment where our students can exceed their potential and go on to become global citizens in an increasingly international higher education sector.

As an institution going from strength to strength, the University is proud to have entered into a strategic partnership with Amity and look forward to collaborating with them at this conference and in many other endeavours to come in the future."
Prof. Martin Bean
Vice Chancellor RMIT University, Australia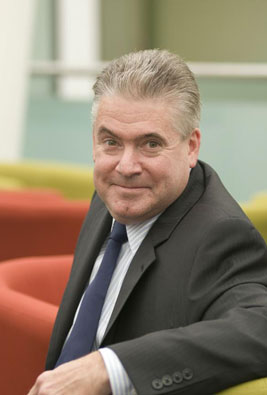 "I am delighted to see Amity University and RMIT moving forward in exploring future collaborative activites that will benefit our students, staff and the communities we are part of. RMIT partners with institutions that are like-minded in ethos and orientation and that strive to make a difference in terms of the economic and social development of our regions. Having visitied Amity University and heard about the aspirations of Amity, I have no doubt that there is common ground for us to build in our emergent partnership.

RMIT exists to create transformative experiences for our students, getting them ready for life and work, and to help shape the world with research, innovation, teaching and engagement. RMIT has a unique approach to meeting the challenge of being ready for life and work: we offer an education deeply grounded in ideas and cross-disciplinary understanding, applied through innovative, enterprising practice to solving problems and meeting the needs of our community.

I see similarities in Amity's approach to education delivery, across campuses in India and further afield and through strong emphasis on online learning. Amity's strong industry engagement is exciting and the emphasis on enterprise formation and incubation is an area of shared interest. This provides a strong basis for collaborative activities for the future, and I am confident we will find common ground to solidify our emergent partnership.My best of wishes for a fruitful and productive 2017 International Business Summit & Research Conference."
Prof. Jacqueline Moloney
Chancellor, University of Massachusetts Lowell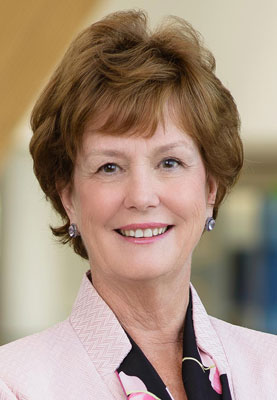 "Hello. I'm Jacqueline Moloney, chancellor of the University of Massachusetts Lowell, and it is my privilege to extend you warmest greetings from our beautiful campus along the banks of the Merrimack River in Lowell, Massachusetts.
I am sorry that I am unable to join you in person today, which would have been a distinct honor, but I am profoundly thankful to the INBUSH ERA World Summit organizers for their gracious invitation to offer this message of support.
At UMass Lowell, we believe passionately in the theme of this year's summit: that education, entrepreneurship, employment and economic development are inextricably linked. I applaud Amity University, Amity International Business School and the conference patrons and attendees for your recognition of this truth and your strong commitment to these issues and their advancement within the international higher education community.
UMass Lowell is proudly involved in mutually beneficial partnerships with more than 100 prestigious universities and schools in 40 nations across six continents. Together, we engage in important scholarly research and cultural exchanges to address our mutual challenges and goals, including economic development and prosperity. To this important end, I am most honored and excited that UMass Lowell has entered into a new partnership with Amity University.
As educators, we share a responsibility to teach our students to be entrepreneurial, and as universities our institutions must be committed to the economic development of our communities, our nations and, together, our world.
We believe all of our students, regardless of their field of study, should learn to think as entrepreneurs so that they are prepared to develop new enterprises that solve problems in business and society.
I wish all of you well as you participate in the INBUSH ERA World Summit 2017. I know that important work will be done here in the interest of all educators and present and future students, as well as all of our communities, regions and nations. Let us commit to one another as partners in the belief that entrepreneurship and education development can be solutions to problems facing us all.

Thank you and please accept my most sincere best wishes for a successful conference."
Dr. Sonia Roca,Chancellor and Founder Universidad Del Pacifico,Ecuador
Dr. Gitanjali Nain Gill, Northumbria Law School, Northumbria University
Anita Abbi - Regional Advisor India & Srilanka
Heriot Watt University, Edinburgh

Mr. Ajay Piramal - Chairman, Piramal Group
Dr. Ajay Kapoor - Dean School of Engineering, Swinburne University of Technology