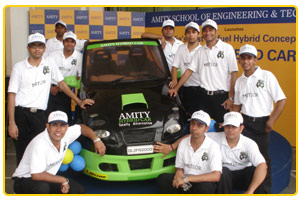 Only the best of the students get admission in Amity. For example, Very limited students are handpicked out of over 1,50,000 applicants. Final interview panel includes senior corporate leaders.
Amity has over 1,00,000 students across 240 programs like law, journalism, telecom, biotechnology, etc. giving you a chance to forge lifelong friendships across virtually all professions. An opportunity, which very few business schools can offer.
Amitians have come out with flying colours, winning competitions in theatre, debates, sports and many other intra and inter-institute feastivals and events.
A few cases in point are :
CHAOS Festival at IIM
Amity was declared the winning team in this prestigious festival hosted by IIM Ahmedabad. Ahmedabad
CNN YOUNG JOURNALIST AWARD
Rahul Aggarwal, an alumnus of Journalism, was adjudged the winner of the ''CNN Young Journalist Award'' for his story ''Dead Man Walking''.
INTERNATIONAL MOOT COURT COMPETITION
Himanshu Dodeja and Ashish Mohan, law students, were selected in the national rounds for participating in the Stetson International Environmental Moot Court Competition and Philip C. Jessup Moot Court Competition in the USA.
CNBC TV 18 COMPETITION
Management students, Saurabh Chauhan, Akshay Bhagotra, Nipun Jain and Payal Garg, beat Bennett & Coleman and Wipro in the 'The Challenge' a Quiz Competition among institutions and corporates in a televised show on CNBC.
Sonia Tandon and Udya Goyal emerged as runners upin 'Trial by Fire', a strategy competition among India's top B - Schools, defeating IIM-Lucknow, IIM-Indore & XLRI.
Amity Students got selected for Top US Universities like
Harvard, Stanford, UPenn (Wharton), Columbia, Cornell, Carnegie Mellon, New York University, Boston University, Northwestern, University of California, …..and many more