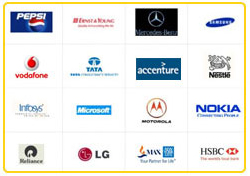 Over the years 30,000 Amity students have got on-campus placements in MNCs and top organisations. Infact, over 4000 students have already got on-campus placements this year. In fact, a record 1309 students were placed in a single day by Accenture, a Fortune 500 Company.
Leading companies across various disciplines come for campus placements at Amity. In technical courses, nearly all students are placed even one year before the completion of the course.
This achievement has been the result of the a 60-member team of dedicated members of the Amity Corporate Resource Centre that constantly interacts with the corporate world and helps prepare students for their careers.
Besides, the industry specific Career Advisory Boards consisting of leading members of the Corporate World give you guidance on creating a clear career plan, a list of appropriate employers, setting realistic career goals and a planned time table on professional development for your future.
To get a detailed list of our recruiters {Click Here}