World-Class Infrastructure
Class Rooms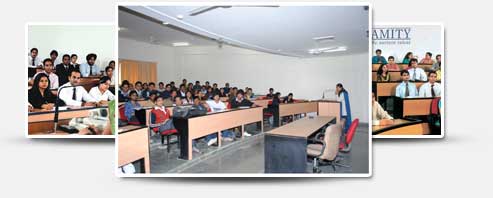 Amity Law School has spacious and well-furnished air-conditioned classrooms with necessary instructional aids such as Over Head Projector, White boards and microphone facility for each class room and LCD Projector for effective communication and interaction with the students, to facilitate class room discussions and project presentations.
Library-Learning Resource Centre
Library is the soul of any educational institute and plays a significant role in all learning activities, more so in the learning of law. The library is located on the ground floor. It is spacious enough to cater not only to existing needs but also accommodate resources and services for future requirements. There is a continuous effort to update and add to our study material resources.

Our collections and Library development policy is not constrained by any impediment. Our study resources include choicest publications of reference books, law reports, digests, encyclopedias, manuals, journals and the like. The law school also subscribes to Westlaw India online and Indlaw databases. The Amity Law School library has a collection of 9450 books and 5464 bound volumes of journals and reports. In addition to this library receives more than 91 journals and 15 magazines and 8 national newspapers on regular basis. The library is following open access facility to all students, faculty and visitors.
ALS library maintains records of number of books issued per day to students/ faculty. Books/journals sent for Xerox per day. From the other universities and institutes researchers visits the library for reference of their research work. Library has a capacity of 100 students at a time. All the magazine, journals and reports are kept in the front side of the library for the use of faculty and students. The bound back volumes of journals are also provided to the faculty and students. The library follows the open access system wherein the students can access the books they want to refer directly from the shelves. In the journal section bound volumes are arranged in alphabetical order. The library has a computerized database from which one can trace any book with the help of library staff / librarian. It has an air-conditioned periodical/book section. The library is equipped with adequate staff to give necessary guidance and assistance to the students.
Computer Lab
Computing facilities form an integral part of any institution. The school has a computer lab which is air-conditioned and fully equipped with adequate number of terminals with latest configuration and more than 50 computers with internet connectivity for the use of the students, teachers and staff working in the Amity Law School. The whole school is wi-fi with 24x7 internet connection.

Moot Court Hall
We have a Moot Court Hall designed like a courtroom for the purpose of conducting Moot Court Competitions. It is compulsory for the 1st year students to participate in internal moot court competitions and thereafter for the internal selection for participating in competitions organized by other institutions and Universities.

It helps the law students in perfecting their legal analytical, research and writing skills that plasticizing attorneys must have. By participating in this process, they become more comfortable arguing in front of judges and a more confident public speaker. The Moot Court Hall is also used for conducting and judging competitions at the Amity National Moot Court Competitions held annually.
Notices
Upcoming Events
Events
Downloads