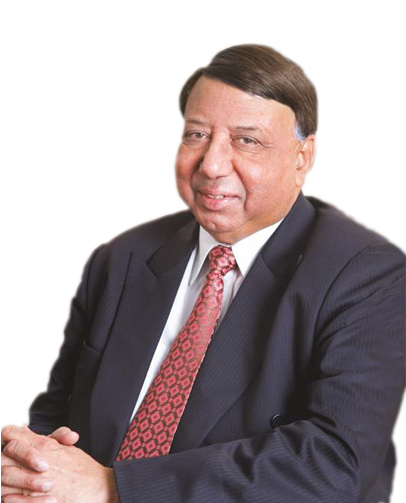 FOUNDER PRESIDENT'S MESSAGE
" Each student of Amity Business School will become a success story. "
What do you need to succeed in life, achieve your goals, fulfill your missions and lead a happy and contended life ? Very few people in this world think of the above questions. Even those who do think, do not give sufficient time to obtain the right answers. Once the right answers are found, one should be able to command the implementation of such answers. I have made a target for myself to equip my students of the institutions of the Foundation, specifically of Amity Business School, so that they excel in their life, achieve all their goals and thus enjoy life. It will automatically lead to the service of the nation and service of humanity all over the world. This aim cannot be achieved without the support and guidance of all those whose help the ABS Team has been seeking and would be seeking. My endeavour is to make ABS the best in the world through students who are determined to excel, a competent and dedicated faculty, a meticulously designed curriculum and an optimum infrastructure. I congratulate all those who are going to share the feeling of satisfaction with the success of ABS.
Dr. Ashok K. Chauhan
President, Amity Business School (ABS) & Founder President, Ritnand Balved Education Foundation (RBEF)
Chairman AKC Group of Companies
Chancellor's MESSAGE
" We are creating centres of thought leadership across the world, where faculty, scientists and brilliant students can explore and expand the frontiers of knowledge."
Dr. Atul Chauhan
Chancellor, Amity University
President, Ritnand Balved Education Foundation CEO, AKC Group of Companies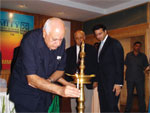 VISION
Building the nation and the society through providing total, integrated and trans-cultural quality education and to be the global front runner in value education and nurturing talent in which Modernity Blends with Tradition
MISSION
To provide education at all levels in all disciplines of modern times and in the futuristic and emerging frontier areas of knowledge, learning and research and to develop the overall personality of students by making them not only excellent professionals but also good individuals, with understanding and regard for human values, pride in their heritage and culture, a sense of right and wrong and yearning for perfection and imbibe attributes of courage of conviction and action.
DEAN'S MESSAGE
Amity Business School has created a legacy of Leadership, Professional Acumen and Excellence. A testimony to its quality education focusing on creating global Managers (read Leaders) and Entrepreneurs in the world of business. Amity Business School strives to exceed the benchmark of educational standards and constantly innovates in its processes and methodologies in Management Education.
Eminent faculty, a Research powerhouse, International Tie-ups, Industry Based Curriculum, Excellent Placements and Constantly upgrading pedagogies are a few hallmarks of Amity Business School.
Testimonies to the above are International Accreditations from IACBE and WASC. It is coveted with the Palmer Award from Wharton. Nationally, it is ranked amongst the Top 10 B-Schools as per the Times B-School Rankings for last six consecutive years.
Welcome to World of Holistic Development
Dr. Sanjeev Bansal
Dean Faculty of Management Studies
&
Director Amity Business School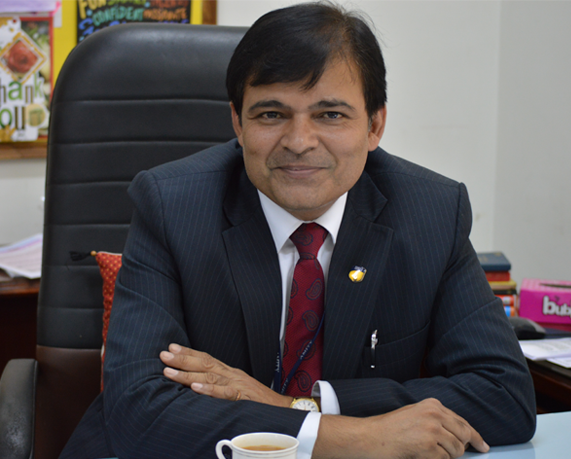 GOVERNANCE POLICIES
ABS has an Academic Advisory Board and Career Advisory Board. They meet at least once a year and its recommendations are presented before CAB. After the approval of CAB, it is incorporated in the program syllabi. Recommendations are taken at two levels i.e. feedback of faculty in collaboration with Program Leader and Post Graduate Program Committee of the students. At ABS, PGP Committee is chosen based on the results of Proficiency test and Semester Exams. It is one of the most coveted committees in this B School hence membership is a prized possession. The Program Leaders and Director take Feedback about the program from the students and input is given to them on their queries. Faculty calls on the luminaries from the Industry and/or Academia as guest lecturers from their areas to impart value addition to the students which adds on to their expertise.ABS has Committees and Clubs in various functional areas in which students perform in Inter/Intra Institutional activities under the able guidance of their Faculties. A number of events are organized by these bodies with an overwhelming participation from the students and weigtage of these is given in their internal assessment.To impart a practical exposure to their conceptual knowledge, the students are given a regular input by the industry through different interactive events organized in the campus. It is through these sessions that the first hand feedback is taken and any desired additional clarity is imparted to them by the faculty.The students are divided into different departments according to their areas of specialization and regular in house meetings are conducted to voice out any concerns in the related areas.

A committee comprising of 6 members is formed on a regular rotation basis of every six months. Transparency and speed in the flow of information is maintained at all levels for the academic and other related matters. There is uniformity in leave procedures both at the faculty as well as staff level. The HR policies are user-friendly and care is taken in taking decisions so that they are in the best interests for the employees and the system.

A constant monitoring of the faculty and their feedback is taken by the program leaders at the regular intervals. This feedback is shared with the faculty for the developmental purposes.

A student Feedback box is kept under the personal supervision of the Director. The information is strictly confidential and any related grievances are addressed in a very expedient manner. Any matter relating to the staff members is reported to the Administrative officer and any proceedings if initiated, are reported to the Director for his approval.